[banner_simple link_url="https://theminustouch.com//warranty/" title="THE MINUS TOUCH | Reversible Energy Bands
Where Negative = Positive" subtitle="Click here to complete your Warranty form" h_padding="20px" v_padding="20px" sep_padding="5px" border_color="#1DAE84″ bg_color="#1DAE84″ title_color="#fff" subtitle_color="#fff" with_bullet="yes" bg_image="" bullet_bg_color="#eb7541″ bullet_text_color="#fff" bullet_text="Use the
promo
code
FREE60"]
[bold_title]PREMIUM ENERGY BANDS[/bold_title]
Energy bands are infused with high quality bonded negative ion releasing minerals which are mixed like a cake-mix into the high quality silicone when the bracelet is made. The silicone traps millions of negative ions which release the highest negative ion output available. Research has shown that human beings respond to negative ion levels above 1000 ions per cc. Factory test meters TMT bands consistently between 1600 – 1800 ions per cc.
Includes lifetime warranty

[bold_title]ionSole[/bold_title]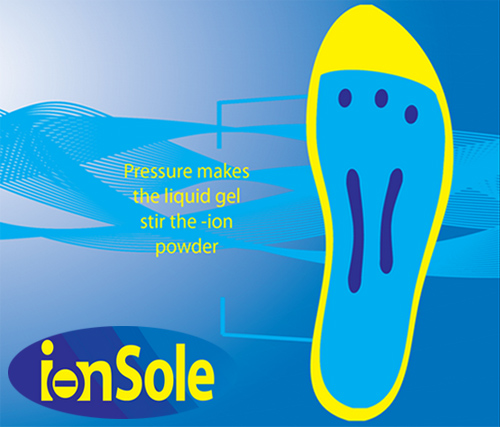 FLUID ORTHOTIC MASSAGING INSOLES. IonSole Massaging Insoles use glycerine which is infused with tourmaline and other minerals. This solution imitates the body's protective fatty pads to help maximize the shock absorption at the heels and balls of the feet. The walking or running action stirs up the negative ions and this along with the massaging glycerine, will help stimulate blood circulation and help reduce the stresses and forces on the bones, joints, and muscles of the feet. The feet will feel younger, and the foot fatigue will subside.
IonSole Massaging Insoles can be used in any and all types of shoes, sandals, and Flip Flops.
IonSole Massaging Insoles also help balance and re-distribute the body weight evenly on your feet placing your spine and lower back in its natural alignment.
[bold_title]OUR PRODUCTS[/bold_title]
WALK HAPPY – LIVE HAPPY
Enjoy Your Life with The Minus Touch